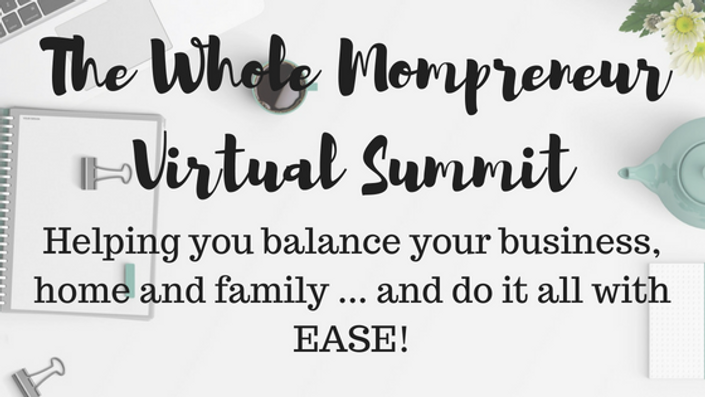 The Whole Mompreneur Virtual Summit
A virtual conference for mompreneurs who want to have it all ... without burning out!
Hey busy mompreneur!
I see you working hard on your business. You're interacting on social media, doing market research, building funnels.
But when it's time to close your email, power down your computer and turn off your messenger notifications, your work isn't done yet.
Now is the time to tackle the household and family tasks.
And I know. It's exhausting. There never seems to be enough hours in the day to do it all.
You're doing all the things, but you know what?
It doesn't have to be stressful or hard.
You CAN have an organized home, respectful kids and a thriving business.
You CAN accomplish everything and have everything you want in life.
What it Means to Be a Whole Mompreneur
As an entrepreneur, we tend to go all in when it comes to our business. We take the time to learn, strategize and implement.
But there is so much more to you than just a savvy business woman.
A whole mompreneur is happy and confident in herself and in her capabilities ...and is killing it in all aspects of her life!
When you have the right mindset and the right systems in place, you can accomplish anything and everything.
The 5 Pillars of a Whole Mompreneur
1. Mindset and Self Care
When you take care of yourself, you're much better equipped to take care of your family and your business. That's why we start by conquering your mindset and making time for you.
2. Parenting
A huge part of who you are is being a mom. And you can do the mom thing while doing the hustle thing, without sacrificing anything. It's all about learning how to engage your kids in the time you have.
3. Productivity
Getting it all done comes down to having the right systems and routines in place so you can easily get it all done. With simple to-do lists and proven systems, getting it all done is totally possible.
4. Business and Marketing
Building a profitable business is much easier when you have a sound plan in place and a direction to follow. By tackling social media, content and marketing in a very smart and strategic way, you can get more done and move forward quicker.
5. Money and Money Mindset
Money is important to you. It's important to me too. And raising your income doesn't have to be complicated. Making more money and maintaining the right mindset to keep that money coming in is essential for a profitable mompreneur.
Join 29 experts and industry leaders to learn just how you can be a whole mompreneur and conquer it all.
The Whole Mompreneur Summit speakers have been featured in:
Day 1: Mindset and Self Care

Day 2: Productivity

Day 3: Parenting

Day 4: Business and Marketing

Day 5: Money and Money Mindset

Here's what you will be learning:
How to easily fit in time for yourself
How to find happiness in your business
How to inspire your children to be their best
Fun learning activities to engage your kids
How to rock your to-do list with ease
How to create flexible routines to keep your home and family running smoothly
How to create a personal brand for your business
Easy ways to get your content planned and schedule in a short amount of time
How to attract more clients and cash using your personality
And much, much more!
Plus get access to these goodies:
A Healthy Tech checklist
The Ultimate Mompreneur's Checklist: Everything you need to know before leaving your 9-5
10 Daily Affirmations printable
Juggling with Passion 5 Strategies to Balance Your Business and Family Successfully
24 Parenting Wisdoms printable
Flexible Family Schedule Planner
The Ultimate Intentional Reading Nook Checklist
Top 5 Ways to Create a Healthy, Lifelong Relationship With Your Kids
The Stress-Free Family System Blueprint
Printable Planner pages
How to Use Flexible Routine Blocks to Maximize Your Productivity as a Busy Mom
A checklist for the Perfect Blog Post
An amazing Business Planner
15+ Social Media Scheduling Tools for $25 or Less a Month
Creating a Book Business Plan Template
An audio training on choosing a marketing strategy that feels aligned to your soul
Ultimate Guide to Email marketing
Tru Brand Assessment Workbook
Mental Levels of Business printable
Set the Right Income Goals and Achieve Them! workbook
Pricing Your Art and Creative Services worksheet
Ideal Workweek worksheet
Daily Habits For a Six Figure Business
You get all the video interviews, the downloadable audios, AND all the amazing checklists, planners, workbooks, printables and more to help you rock your Whole Mompreneur game!
Hi! I'm your summit host, Corinne Kerston.
I'm an entrepreneur, a wife and a mom. As a Parent Empowerment Coach, I help struggling parents find solutions for their kids by helping them understand their kids and get to the root of the issue at hand. Never one to offer Band Aid solutions or catch all tactics, I help you connect the dots and see what's really going on … with your kids and with yourself.
Learn more about me at CorinneKerston.com.